Miele Complete C3 Marin Reviews: Best to Buy in This Year
If you've been using a vacuum cleaner for a long time, surely you know there are pros and cons to picking a vacuum based on either performance or design. Powerful vacuums like uprights tend to be heavy and exhausting to use for long periods. While lightweight vacuums, such as handhelds or stick vacuums, usually don't have enough cleaning power to adequately clean your home.
Sounds relatable?
You should try canister vacuums, then! Compact and powerful, they represent a nice balance between raw cleaning power and mobile design.
This Miele Complete C3 Marin Reviews will be of interest to you if you're looking for a great canister. As one of the premium and best rated canister vacuums, it's a great place to start the search for your next vacuum!
Overview
The Miele Complete C3 Marin canister vacuum cleaner is part of Miele's Complete C3 series of canister vacuum. Aside from the C3 Marin, the Complete C3 family also includes five other variations like the Miele Complete C3 Powerline, Miele Complete C3 Calima, and more. 
Though virtually indistinctive in terms of design, each version offers specialised functions suited for different purposes. The C3 Marin distinguishes itself from the rest of the family with its electrobrush, which makes it far more suitable for heavy-duty carpet cleaning. So if your house has a lot of thick, shaggy carpeting that you have to clean regularly, this Miele canister vacuum will be an excellent cleaning companion.
Mobile with plenty of cleaning power to spare, the Complete C3 Marin is among the leading models in
the canister vacuum segment Via: Amazon
The vacuum also does a great job at sucking up dust, dirt, and debris on hard floors with its Parquet Twister floorhead, so don't be too bothered if your house is not carpeted!
Overall, with the kind of performance it offers, it's quite hard to think of any kind of consumer the Complete C3 Marin will not satisfy.
   ➜ RELATED: Miele Blizzard Cx1 Review: A Solid Mid-Range Bagless Canister
Nonetheless, there's one huge challenge when it comes  to owning and using the C3 Marin, the cost. Like previously mentioned, this canister vacuum is a premium model and so it costs around $1,000 to buy. Furthermore, it's been remarked by many users that the filters and extra dust bags are difficult to find as well as expensive.
I'll be frank with you, this vacuum requires a commitment to buy and to use. If cost is something you worry about often, the Complete C3 Marin may not be a great choice. However, the vacuum will be worth the investment if you decide to go with it!
Pros
• Lightweight and compact

• Great cleaning performance on carpeting and hard floors alike

• Wide variety of accessories

• Excellent filtration
Cons
• Expensive to use and maintain

• Difficult to find replacement filter and dust bag

• Prone to clogging
Features
Mobile and Compact Body Design
Like I mentioned before, one of the greatest appeals of canister vacuums is the mobile and compact design they offer.
The Complete C3 Marin's body is no larger than a medium-sized backpack when it's laid on the ground. Despite weighing 12 pounds, it has non-marring wheels at the bottom to make it easier for you to lead it around the house. The wheels are designed so that they won't damage your flooring, so don't worry too much if you have damage-prone floors like polished hardwood.
If your house has multiple floors, the canister has a handle at the top for when you need to lift it up and carry it with you up and down the stairs.
1,200-watt Vortex Motor
There's no contesting the fact that the Miele Complete C3 Marin has performance power on its side. The 1,200W Vortex Motor packed inside can generate the necessary suction power to clean out tough debris and uproot caked-on dirt from within thick carpet piling.
The high performance is only one part of the Vortex motor's appeal, though. For the kind of power it can output, the motor is surprisingly quiet. You can switch on the vacuum in the middle of the night and, unlike a full-sized upright, it won't upset your neighbors or sleeping family members.
Electro Power Brush
The Electro Power Brush is the Complete C3 Marin's biggest selling point. Inside the power brush is an electrically-driven, 13 ⅜-inch brush roll. The brush roll will agitate debris and dirt hidden inside of dense carpet piling or stuck on the carpet fibers, and in doing so,  make it easier for the vacuum's suction to take out.
You can manually adjust the brush's height with the five-notch height adjustment lever. Depending on the height and density of your carpeting, fix your power brush's height accordingly. You don't want it to be too high that the suction and brush can't break through the piling, or too low that the vacuum gets stuck in the carpet.
Personally, I love the extra flexibility it offers. No matter the design or type of my carpet, I can just adjust the vacuum to accommodate them. 
But maximizing carpet cleaning performance isn't the only thing the electro power brush can do. It has a swivelling neck, which lends a touch better maneuverability to the Miele Complete C3 Marin canister vacuum cleaner.
And if you're a night owl like me, the power brush also has a series of LED headlights to make it easier to clean in the dark.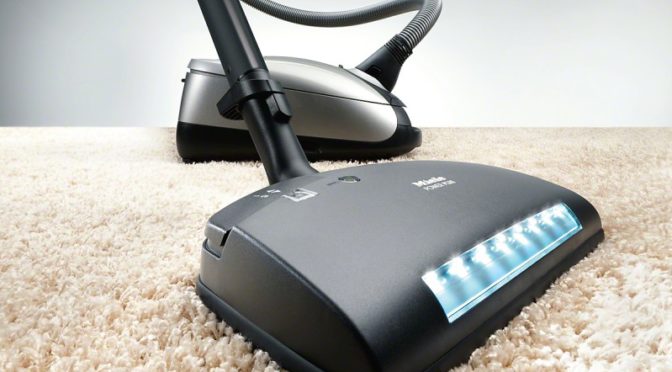 The Electro Power Brush is the secret behind the Complete C3 Marin's excellent carpet cleaning power Via: Amazon
Parquet Twister
The Parquet Twister picks up where the Electro Power Brush left off: dealing with bare, hard floors. This floorhead has a series of polyamide and natural bristles to scrub out dirt stains and sweep up debris on your floor without damaging the delicate surface. This will be especially useful for owners of sensitive types of flooring, like polished hardwood, which can get scratched at the lightest of wrong touches.
Just like the Electro Power Brush, the Parquet Twister is similarly maneuverable. It can rotate 180-degree to clean around furniture and other obstacles in your home.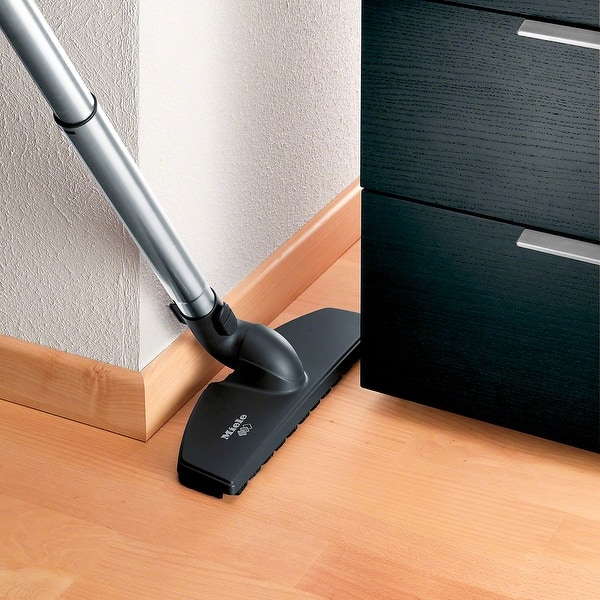 Parquet Twister floorhead for bare floors cleaning Via: Amazon
Speed Control System
The Complete C3 Marin gives you 6 different power settings. You can set them based on what you're cleaning at the time. The 6 modes are:
• Curtains & fabric

• Upholstery & cushions

• Deep pile carpets, rugs, and runners

• Energy-saving Mode

• Loop pile carpet and rugs

• Hard flooring and heavily soiled carpets and rugs
All of the settings are self-explanatory aside from energy-saving mode. Considering the fact that this is a corded vacuum, it doesn't really need to conserve energy the way cordless vacuums do. What this mode will actually do, however, is to reduce the noise level. When you set the vacuum to this mode, the motor's noise will drop significantly.
When you couple this mode with the already quiet Vortex Motor, your late night cleaning sessions will be considerably less disruptive to everyone else in the house.
But aside from the 6 given power settings, you will also get an Intelligent Auto Setting. This feature is only available to three Complete C3 variations: the Miele Complete C3 Alize, Complete C3 Brilliant, and the Complete C3 Marin.
What this mode does is automatically adjust the suction power based on the type of surface you're vacuuming, all by using its sensors. If you, like me, don't want to fiddle with the settings a lot and just want to go straight to the cleaning part, this mode will keep things simple.
   ➜ RELATED: Miele C2 Vacuum Cleaner Review: The Perfect Solution For Your Hard Floors
Foot Switch
The Miele Complete C3 Marin and every other canister vacuums in the line-up like the Miele Complete C3 Cat & Dog, & Miele Complete C3 Alize. all feature a foot switch.
When the vacuum is initially powered on, it automatically sets itself to the highest suction available. The foot switch allows you to readjust the power to a pace that's more fitting for the cleaning task at hand.
It's quite intuitive in terms of design. There's the "+" pedal and the "-" pedal. Simply step on either to finetune the vacuum's suction power until it's preferable.
12-Stage AirClean Sealed System and HEPA Filter
Filtration is one of the better aspects of the Miele Complete C3 Marin canister vacuum cleaner. If you or anyone else in the house suffers from mild or serious allergies, the filtration system alone will make any vacuum in the Complete C3 series a great solution to the age-old question of "What are the best vacuum cleaners to buy."
First, the canister portion of every Miele Complete C3 (irrespective of version) is airtight. They can keep 99.99% of dirty particles as small as 0.3 microns (hundreds of times smaller than a strand of human hair) solidly contained inside. They will not leak back out into the environment through seams and cracks on the vacuum's body.
Then you have a HEPA filter to capture all of the microscopic particulates in the passing air flow. HEPA stands for High-Efficiency Particulate Air and it is the highest class of filter available. As a matter of fact, it is so effective at filtering that it can deal with airborne bacteria and viruses, something standard foam, felt, or fabric filters can't do.
   ➜ RELATED: Miele Compact C1 - The Canister Vacuum With Excellent Performance
Miele AirClean Dust Bags
Miele canister vacuums use the company's AirClean dust bags to store all of the dust, dirt, and debris it picks  up along the way. The bag is made from "randomly-spun fiber", which purportedly makes it more durable and less prone to leaking. 
Additionally, the bag also has a filter integrated right into it to serve as another layer of filtration for the vacuum. The bag's filter is less effective than the primary HEPA filter of the vacuum. However, it can still eliminate about 94% of 0.3 microns particles— still very impressive.
Each bag can hold about 4.76 quarts (5.2 liters) of dirt before being filled up to capacity. It has a self-sealing feature, so when you remove it from the canister, the bag automatically seals itself shut to prevent leaking.
Retractable Power Cord
The 24 feet long power cord of the vacuum can be retracted for easier storage. All you have to do is to step on the retract switch at the back of the canister.
Long, 24 feet power cord with a retracting mechanism offers extensive range and easy storage Via: Amazon
Customer Reviews
The Miele Complete C3 Marin canister vacuum cleaner was warmly received by customers. Despite its price which has caused some hesitation, most customers were satisfied by it once they got the opportunity to test it out for themselves.
We have combed through the many of the Miele Complete C3 Marin reviews by customers and corralled some of them for you to look through. Their experiences will give you an idea of what being an owner of this Miele canister vacuum is like.
Some Alternatives 
If you need capabilities different from what the Miele Complete C3 Marin can offer and are still intent on getting a Miele canister vacuum, there are many alternatives for you to choose from. 
Pet hair is one of the toughest kinds of debris a vacuum cleaner could ever have to deal with. They can easily clog up a vacuum in no time. Miele caught onto this demand and created the Miele Complete C3 Cat & Dog, which, as the name suggests, was designed specifically to deal with pet hair.
In terms of overall design, it's the same as the Complete C3 Marin. Still the compact canister design, the 1,200W Vortex motor, 6 motor speed, AirClean filtration..
The difference lies in the accompanying accessories. Instead of an Electro Power Brush and a Parquet Twister floorhead, the Cat & Dog version comes with a rotating Turbobrush and a AirTeQ floorhead. The latter of which provides high-flow performance to improve the pet hair pickup rate.
If you're a pet owner, you really don't want to miss out on this one.
With the kind of pet hair performance it offers, the Complete C3 Cat & Dog is highly ideal for pet owners Via: Amazon
The Miele Complete C3 Powerline, otherwise known as "Kona", is the more affordable choice to the Complete C3 Marin. It has the same design and same bundle of accessories (Electro Power Brush and Parquet Twister). According to customer reviews, this vacuum model performs similarly well on low, medium, to high-pile carpeting as well as hard floors.
Nonetheless, it costs about $100 less than the Marin. The reason lies in the omission of the Intelligent Auto Setting. Now that it's no longer saddled down with smart electronics and sensors, the price tag becomes less steep.
The only trade-off is you're going to have to do the power adjusting manually every time you switch from one surface type to another. If you don't mind putting in the extra effort, the Kona will be a sweet deal.
Complete C3 Powerline is worth considering if you want the Marin's power at a fraction the price Via: Amazon
The Miele Complete C3 Alize will be great for those who are looking for the most affordable Miele canister vacuum available. And especially for people like me who don't have a lot of thick carpeting and rugs around the house to necessitate buying the Powerline or Marin, the Alize will fare even better value-wise.
The Alize still has all of the basics of a Complete C3, such as the Vortex motor and the AirClean sealing and filtration system. Changes occur in the accessories: the Alize only comes with an AirTeQ floorhead. Since AirTeQ works best only on low-pile carpeting and rugs as well as bare floors, medium to high-pile carpets and rugs are out of the question.
But since the Alize is nearly $300 cheaper than the Marin and is the most affordable in the Complete C3 line-up, it's great value for money if you don't have a lot of carpeting to deal with in the first place.
Alize is the most affordable— though no less capable— model in the Complete C3 series Via: Amazon
Conclusion
So there you go!
This Miele Complete C3 Marin review represents my top selection for the canister vacuum segment. Mobile and highly capable, the Complete C3 Marin could be a dependable vacuum for you to use for the next couple of years if you were to decide to give it a chance. 
You can check out the product here at the link and see the pricing.
Guadalupe Sullivan has been writing for TheKingLive since our very first day of operating. Guadalupe takes great pride in her accumulated experiences and great content across the different fields. At the moment, her focus is to make a better living environment for both in house and out of the house, tailoring her practice, experiences, knowledge, and inspiration to readers' needs for their home and garden. Every reader could find some things that could be an unbiased opinion and review of a product, or practical, real-life tips and guides, help make the best version of your sweet home.