Nest Cam Indoor: Good Home Security System (If You Can The Afford Cloud Video Plans)
Technology advancements have made security cameras more intuitive and easier to use than ever. Gone are the days when you had to have professionals come and install them in your home, only to find out those cameras require on-premises storage, and come with a user interface that is not user friendly, even for tech people. Nowadays, as long as you're comfortable with a smartphone and other devices like smart speakers, you should have no trouble installing a new security camera from brands like Ring, Arlo, and Nest.
Owned by the tech giant Google, Nest is where most people want to put their trust for their first smart security camera purchase. If this is also the case for you, the basic Nest Cam Indoor is probably the first product you want to consider. What's so special about this camera? Let's find out in our Nest Cam Indoor review.
What to Look For In A Security Camer
Video quality
Most newer models come with at least 1080p resolution, with some even going further to 2k and 4K. This is much better than the default HD 720p cameras in the previous generations as these high-definition resolutions allow users to get a clear look at what is happening in their home.
Zoom
Details matter when it comes to security cameras. There are so many situations in which one would love to zoom a bit more to see and recognize a person or an object in a frame. Most smart security cameras' mobile apps allow users to zoom in or out by pinching on the touchscreen.
Some models use optical zoom from physical lenses, which is a better choice since it produces more details at a higher resolution. On the other hand, the zoom ability of other cameras works by just stretching the current video feed.
   ➜ RELATED: How Do Baby Monitors Work? Here Is All You Need To Know
Field of view
A bigger field of view provides a wider range of footage, meaning you can see more areas in a single frame. The limit of camera lenses is 180 degrees, but models with a 120-degree field of view are already sufficient for most users. If you want a wider range, look for cameras that can pan around.
Night vision
Of course, a 24/7 security camera must have the ability to work at night without a big drop in quality or sensitivity. There are two methods of providing night vision. The traditional way is using infrared LED lights, which can only create black and white footage. Some newer models, on the other hand, have utilized low-light light sensors to make color night vision possible for home security cameras.
Audio
Two-way audio, like what you'll find on most baby monitors, is a feature many people overlook. It allows users to speak to whoever is in front of the camera using a pair of built-in speakers and microphone. If you intend to use it mainly with your toddler, check out baby monitor reviews.
Storage
Video storage is available in two forms: local and cloud. The former uses a physical medium present in your home, such as an external hard drive or a micro SD card, to let users save video footage locally. A feature that has become more popular lately is cloud storage solutions. Security camera brands usually provide monthly and annual subscription plans to buyers if they want to save the footage for later access and other extra features.
Overview of Nest Cam Indoor
About Nest
In 2010, two former Apple engineers, Tony Fadell and Matt Rogers, created Nest Labs to develop internet-connected thermostats that can program themselves. Google acquired Nest in January 2014 and Dropcam, a security camera startup, in June, before allowing them to operate independently. The next year Google launched the new Nest Cam, a Wi-Fi, cloud-based indoor security camera, to replace the Dropcam.
About Nest Cam Indoor
Nest Cam Indoor Via: Amazon
The Nest Cam Indoor is based mostly on its predecessor, the Dropcam Pro. It's a dual-band Wi-Fi indoor security camera that provides HD video capability, sound and motion detection, and close integration with other Nest and Google devices.
The camera comes with a mobile app to provide streamlined access to live video feed. While you must pay a monthly subscription to view recorded video, the Nest Cam Indoor is still a convenient option if you want to keep an eye on your home from anywhere with a smartphone.
Pros
Easy installation for both hardware and software
Crisp 1080p video feed
Plenty of extra features
Work seamlessly with other Nest devices
Cons
Expensive cloud storage subscription
No higher resolution options
 
Nest Cam Indoor Review
Design
The Nest Indoor camera bears a close resemblance to the DropCam Pro, its predecessor, with a puck-shaped design. The biggest differences in this newer model are the thinner pedestal stand and the slightly smaller base, which allows users to fold the camera 180 degrees and swivel it full 360 degrees.
It stills has a sleek, modern design with a smooth gray look. The metal stand supports the main camera eye via a slim pivoting leg attached to the lens, while the wider magnetic base brings stability to the entire system. On top of this base, there is also a wall-mounting plate in the box to offer more mounting options. You can easily put it on your table, kitchen countertop, stick it on your fridge, or mount it on the wall. The stand can even be unscrewed from the camera, allowing users to mount it on a tripod.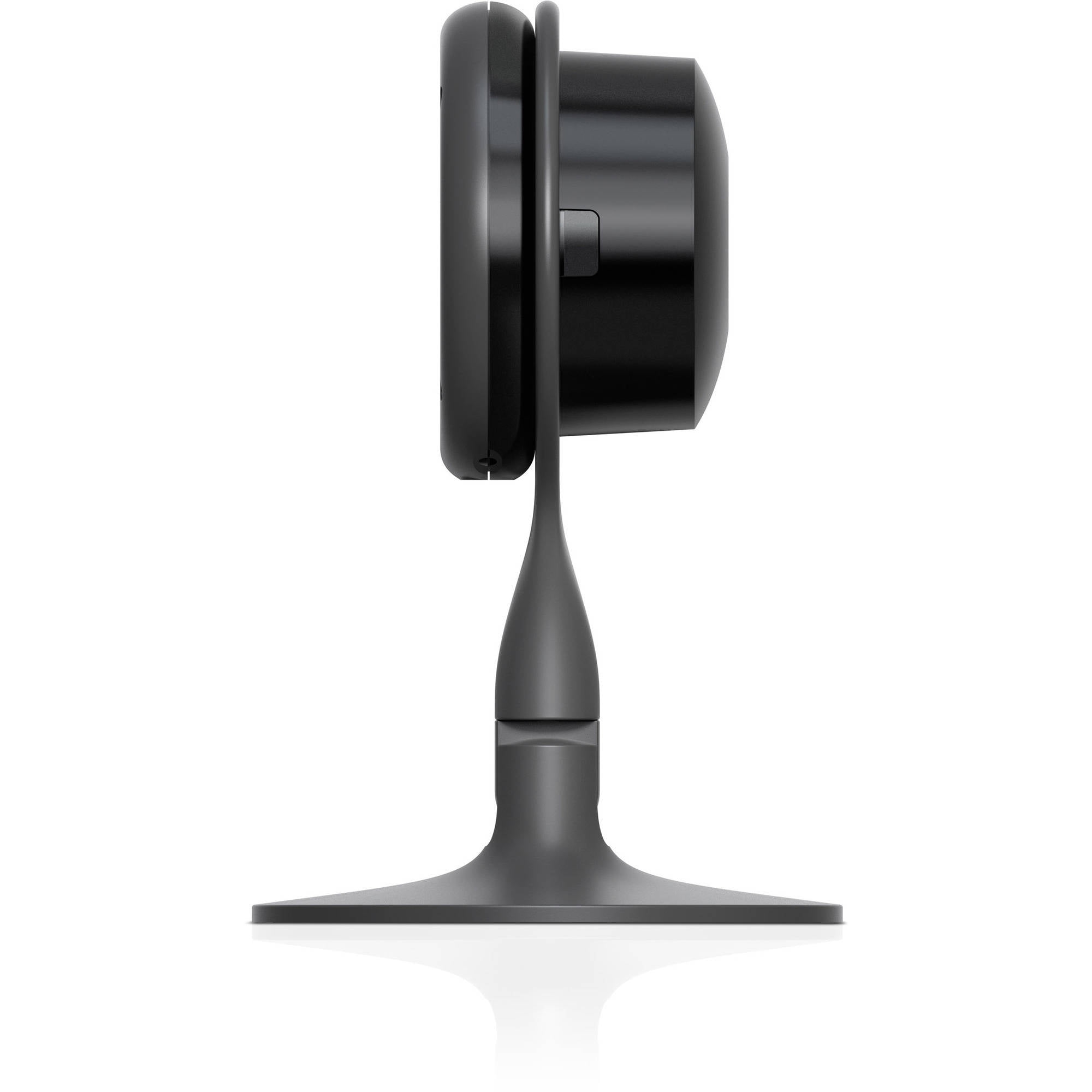 Side view of Nest Cam Indoor
Google provides a 10-foot USB power cord that you can connect to the micro-USB port at the rear. This connection allows users to plug the camera into any device with a USB port, such as your desktop, laptop, or a compatible USB charger. There is a LED on the lens that flashes blue when the Nest Cam Indoor is trying to connect to your home network and turns solid green if it's recording. Besides the standard 1-camera option, you can also buy Nest Indoor camera 3 pack.
Basic Features
This Nest camera system utilizes a 3-megapixel camera that can deliver a constant video feed at 1080p and 30FPS (frames per second). The wireless connectivity of this smart device includes 802.11 a/b/g/n Wi-Fi standards at both 2.4 and 5GHz, with support for WEP, WPA, and WPA2 encryption to provide top-of-class security. The camera allows for a 130-degree field of view and night vision ability, thanks to the 8 high-power infrared LEDs.
Additionally, this indoor camera is equipped with sound and motion sensors, which will send notifications to your device and start video recording right away. However, Google limits push notifications to one per 30 minutes, and there is no support for email notifications, unlike some other competitors like D-Link.
   ➜ RELATED: The Story of The Best Breast Pump of This Year Has Just Gone Viral!
Two-way Communication
The built-in microphone and speaker also allows for two-way audio communication between the Nest Cam Indoor and your device, just like how a regular baby monitor works. You can check in occasionally from your office and say hello to your kids when they get home from school, or simply play with your pets. Google Nest baby monitor is therefore not a far-fetched name for this camera system.
Two-way communication Via: Amazon
You can touch the Talk button while viewing the live video stream to connect to the camera's speaker. The LED on the front of the Nest Cam will flash blue, and the speaker will beep as an indication for someone on the other side to talk.
Using Nest cam as baby monitors is not a main feature of this security camera, so don't expect high-definition sound quality in either direction. Still, it's good enough to earn this model good Nest cam as baby monitor reviews.
Cloud Storage Plans
The Nest Cam Indoor provides a live video view for free out of the box, but if you want to access recorded video or get alerts when the device detects something, you must buy a Nest Aware subscription plan from Google. This includes advanced features such as face detection and depth-sensing using advanced algorithms to deliver more accurate motion and sound alerts. Buying a Nest Aware plan also allows you to take short clips from your videos and share them on social media.
The standard plan costs $6/month (or $60/year if you pay annually), while the more feature-rich Nest Aware Plus is priced at  $12/month ($120/year). Those subscriptions are not cheap at all and may cost more than the original hardware if you plan to use it for several years.
Smart alerts via smartphones Via: Amazon
But this business model has become a new standard for a lot of hardware companies, including residential security. Most of the video storage plans accompanying those devices are expensive, but this is the cost you have to pay for easy access and convenience.
At least Google offers a 30-day trial when you buy a Nest device (there is a limit of one free trial per home), and these Nest Aware plans work with all cameras, speakers, and displays under the Nest brand.
Extra Features
The Nest Cam Indoor can be scheduled to turn on and record during a predefined period of time. You can take advantage of this feature to turn the camera off when you are, for example, watching TV in the living room to save some network bandwidth.
One of the biggest selling points of this camera is that it's compatible with both devices under and outside of the Nest brand. If you have a Learning Thermostat from Nest, for instance, and set it to the away mode, the Nest Cam will turn it on automatically. When your Nest Protect smoke and CO detector senses an alarming signal, it will trigger the Nest Cam and tell it to record a clip in order to help you find out what is happening in your house.
Other third-party devices can also make use of this integration to make your home smarter. If the Nest Cam detects that all of your family members are away, it will set off the SkyBell doorbell so it can start recording. Other compatible devices include Philips Hue smart light bulbs, Mino baby monitors, Petnet smart pet feeders, and August smart locks.
Video and Audio Quality
When viewed on your smartphone's screen, the footage of your home looks much clearer than what the original Dropcam Pro offers. This improvement comes mainly from the upgrade in resolution - 1080p compared to 720p. While it's true that the default HD setting will make video load faster when you don't have a strong Internet connection, 1080p footage is glorious to have if your network can afford it. The high-definition video feed is silky-smooth with a sharp focus. There is a small delay (about 1 second) in real-time viewing, but this is in the acceptable range for a security camera.
Nest Cam's video view Via: Amazon
Even in its maximum flexibility, the Nest Cam Indoor still performs amazingly well. The 130-degree field of view is one of the widest on the market, while the 8x zoom puts this model in the high-end range. With a big screen of a computer or tablet, you can have a better full-screen view of your home. However, the video feed on those large screens seems to be slightly darker.
The Nest Cam allows you to zoom in or out and pinch on touchscreens. It's a great addition when you want to have a closer look at certain areas of your house, but when fully zoomed in to 8x, there will be a great loss of details. Even the Enhance function that is supposed to make up for this can't improve the quality much further.
The night vision of the Nest Cam Indoor is phenomenal, however. The video is surprisingly bright and clear. The camera will turn this mode on automatically when it detects that the lights have gone out. You can also activate it manually to monitor low-light areas like your baby room. Another instance in this Nest cam review, baby monitors proves a surprisingly good application of this home security system.
The Nest Cam has an excellent night vision function Via: Amazon
While the video quality of the Nest Cam astonishes many users, the sound coming out of this camera doesn't do that well. It doesn't have the best clarity and produces a lot of white noise. The camera allows users to change sound sensitivity, but this seems to be ineffective in avoiding background noise. No matter how you adjust it, be prepared to listen to constant noise through the Nest Cam all night.
Mobile App
The Nest companion app is free on both iOS and Android platforms. It's a straightforward app that has a simple home page displaying all your connected Nest devices. The drop-down menu gives access to account information and settings, while the Nest Cam icon will show you all cameras activated in your home with a name and a thumbnail. Touch them, and you can view the video feed, with the zoom and talk options.
Connectivity
You won't need to worry much about network compatibility as the Nest Cam Indoor can work with most modern home Wi-Fi networks. Use a tablet or smartphone with Bluetooth 4 to set up, and the Nest Cam will connect to your network without lag or drops.
This also makes this camera a great alternative to baby monitors that uses only regular radio waves to communicate between baby and parent units. This technology isn't the best option for big homes where multiple layers of interception, like walls, can get in the way and weaken the device's signals.
Usability
Google strives to make its hardware as user-friendly as possible, even for security cameras, which traditionally required professional technicians to install them. The Nest Cam Indoor is quite easy to set up and doesn't require much hardware or networking knowledge.
Even when you must connect it to your device manually, the process is still quick and easy to understand. Just download the mobile app and follow the official instructions. It's not as simple as basic plug-and-play monitors, but even most tech novices won't have an issue with it.
This security camera is easy to install Via: Amazon
The mobile app is simple as well. Most features are already present with intuitive icons on the screen. Even the most hidden feature is just a few touches away. You should be able to get familiar with the Nest app quickly without any guide or instruction.
Alternatives To The Nest Cam Indoor
#1- Arlo Ultra
Arlo Ultra Via: Amazon
The 1080p capability of the Nest Cam is already plenty for many users, but if you want to go further and aim for 4K video, the high-end Arlo Ultra is for you. This extra resolution is not just a show-off of cutting edge technology but may also come in handy in many real-life situations.
Using these ultra details and the ability to track and zoom, you can easily follow and identify a person in the video as they move across the frame. As mentioned above, Nest Cam does amazingly well in normal situations but starts to be found wanting in video quality when zoomed in.
On top of that, the Arlo Ultra comes with dual microphones to give better sound quality than the Nest Cam. But all of these improvements don't come cheap, though. Each Arlo Ultra costs more than a set of two Nest Cams, and I've talked about its cloud storage plans (called Arlo Smart). The basic tier from Arlo costs $2.99 per month for a camera, while the Elite plan, required if you want to store your video at 4K, costs $4.99 a month.
Pros
• Amazing video quality at 4K
• Better audio
Cons
• More expensive
• Only allow for login from a device at a time
 
#2- Ring Floodlight Camera
Ring Floodlight Camera Via: Amazon
This model from Ring is a combination of two essential devices: a motion-activated floodlight and a security camera. When the built-in sensors detect movement, they will trigger both the 1080p camera and two bright LED beams at the same time. The unit is also equipped with a speaker, so its owner can talk to whoever is in front of the camera.
Ring's mobile app provides a wide array of settings, including scheduled recording and customized motion zones. The neighborhood-watch is a unique feature that allows you to share and view video feeds in your area with nearby Ring users. However, this sharing feature requires a subscription plan from Ring.
Pros
• Powerful LED floodlights included
• Let users customize motion zones
• Able to share video with other Ring users in the neighborhood
Cons
• Not suitable for indoor use
 
#3- Arlo Pro 3
Arlo Pro 3 Via: Amazon
The Arlo Pro 3 comes with 2K video capacity, color night vision, and a built-in LED spotlight. It is a complete home security package that can run without a power cord for up to 6 months. This allows more positioning options, and if you happen to have an outlet nearby, you can just plug it in via the USB cord.
Like other Arlo's models, the Pro 3 connects to a main station, which can support local storage for up to 20 Arlo cameras in your home. The online storage plans expand the camera's capabilities by providing advanced object detection and other smart alerts for users. This brand also makes dedicated baby monitors, so if this is your main purpose, check out Arlo baby monitor reviews.
Pros
• A spotlight included
• Color night vision
• 2K resolution
Cons
Final Verdict
The Nest Cam Indoor is a user-friendly product that doesn't have a steep learning curve or complicated setup. This focus allows more users to access a home security solution that can work seamlessly right out of the box even if they are not tech-savvy. It's a nice addition to the already amazing feature set, which includes crystal-clear 1080p video feed, great night vision, and a wide field of view.
They will cost you, however, and it goes beyond the original investment in hardware. To access more convenient cloud storage and other advanced features, you must subscribe to one of the two pricey Nest Aware plans from Google. They require users to think twice before deciding to buy the Nest Cam Indoor security camera.
With the fast pace of life nowadays, being a parent seems to be a more difficult job than it was in the past. I myself had a terrible time struggling between taking care of my first baby, doing housework, and completing tasks for my job.